9 Effective Time Management Techniques for Online Students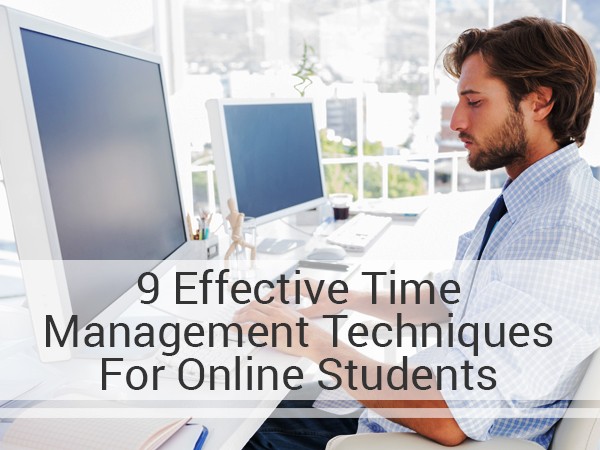 Tags: time managementtips for college students
Has the question 'What is time management?' ever appeared in your mind? Time management techniques help many online students cope with their homework at the times when they have no inspiration to study or are simply under pressure. I know how overwhelming it can get as I have been there. I have taken a few online courses and had to find ways of dealing with multiple tasks. That is why I am writing this article to help you learn how to manage your time, balance your work, personal life, and education. Since there is enough information about this topic on the Internet, I've tried to pick out the most crucial moments and make this article resourceful. I am sure that if you choose to implement these time management tips for college students, your life will be much easier.
1. Define Specific Time to Study
Enrolled students have a set schedule according to which they visit their classes and do homework. On the other hand, students who study online have to define time for studying on their own. For students who lack time management skills, an indefinite schedule may become a challenge. If you notice yourself procrastinating important homework, it is better to organize your routines and set appropriate time for studying every day.
2. Use Study Strategies
Make your brain remember more information by engaging all your senses when studying. Try various study styles to find out which strategy works best to improve your time managing. These study styles are often focused on time management games, such as writing flashcards, creating sensory associations, and teaching your friends the subject you are trying to remember.
3. Benefit from Time Management Apps
Many applications have been designed specifically for online students who want to develop the skills of effective time management. Here are some useful articles about the variety of time management applications:
Best time management apps for adult students: http://www.capella.edu/blogs/cublog/best-time-management-apps-for-adult-students/
Top 15 time management apps and tools: http://www.lifehack.org/articles/technology/top-15-time-management-apps-and-tools.html
Do time management apps really make people more productive? Read here: https://www.theguardian.com/business/2015/aug/18/time-management-apps-work-life-balance-productivity
And here are the apps for your phone (I've chosen these to my taste but there are plenty more available):
30/30 on iTunes: https://itunes.apple.com/us/app/30-30/id505863977?mt=8
TimeTune on Google Play: https://play.google.com/store/apps/details?id=com.gmail.jmartindev.timetune&hl=en
4. Set Your Own Deadlines
Mastering the art of prioritizing is not easy. Defining your own deadlines for each task will help you to be successful in time planning. Moreover, you will avoid the risk of being late with your task or not completing it at all.
5. Avoid Distractions
Find a quiet room where nothing can distract you from studying. Turn off your phone and TV. If you are working on a computer, close all unrelated websites that might lure you during study time.
6. Study a Subject in Small Parts
It is always better to devote a minimum of your time every day to reread the study material than cram it all night before the exam. That's a fact – always worked for me. Studying in small parts will stimulate your brain to recover information whenever you need it.
7. Ask for Help
Online studying does not make professors and students less connected. Remember that your instructor is always there to assist you with the questions you may have about a subject. Feel free to ask for clarifications! I think that communication with your teachers also builds a kind of trustful relationship, which might be quite beneficial in your studies.
8. Carry Your Laptop with You
If you keep your laptop handy, you may use it for studying whenever you have a free minute: during lunch at work, in a long queue, when waiting for your friend or business partner to arrive, etc. I also find it convenient to do some study-related stuff on my iPad. I guess whatever device you own, it can be used to your benefit.
9. Keep in Touch with Your Classmates
Although meeting your classmates may be a challenge when you study online, you can always start chatting in Skype and social networks. Communication with your classmates will give you a fresh look at your study habits. For me, it also helps to unwind and feel included, which makes all time managing fuss less stressful.
This short article by Alan R. Roper http://er.educause.edu/~/media/files/article-downloads/eqm07110.pdf gives a better insight into online learning and how online students become successful in their courses.
From my own experience of an online learner, I can assure you that these tips are extremely helpful for those who take courses on the Internet. When I was trying to combine education and work, effective time management appeared to be the best method to organize my daily routine. Go on and try out these techniques to make your busy life less stressful.