List Of Books Every College Freshman Needs To Read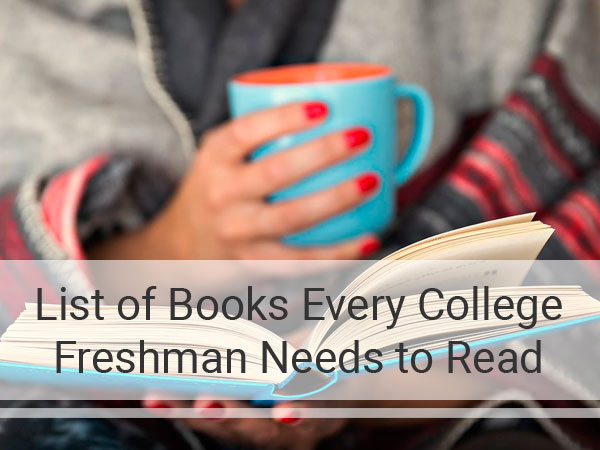 Tags: free timehelpful books
Leaving parents' home is not an easy task. You are used to tasty homemade food, warm and prepared bed, tenderness and care from the mother's side, and other pleasant things that you are going to miss entering college not at your local town. Luckily, people have already experienced this and, consequently, created interesting books for freshmen to avoid common mistakes and make it easier to adjust to a new environment. Here are 10 books that will be really useful for a first-year student.
Most Popular Helpful Books for New Students

The Crossroads Of Should And Must: Find And Follow Your Passion

This book is full of inspiration for the freshers. It will help you decide what you are really eager to do during your college apart from studying. It is never late to become a writer, singer or artist – all you need is only desire and possibilities.
Why Didn't They Teach Me This In School?: 99 Personal Money Management Principles To Live By

That is really hard to manage money by yourself for the first time. A lot of freshers are stunned when they understand that there is no money left on their account and there is still a lot of time to live. This book will give you a deep insight into this issue.
Adulting: How To Become A Grown-Up In 468 Easy(Ish) Steps

There are always constant challenges on a way to adult life. Living on your own is one of such issues. This book will present you a funny but useful guide to a peaceful and steady life as a grown-up.
Color Me Stress-Free: 100 Coloring Templates To Unplug And Unwind

This list of books cannot go without distressing manuals. Being able to have a rest between exams should be an integral part for every student. Freshers do not really know how important it is, so this is just what they need – a precise guide for relaxing and unwinding.
Commencement

A fictional novel tells us an educational story of four boys and takes us on a journey that lasts for four years in college. Even though the events are imaginary, freshmen will find a lot of interesting things to use in their real life.
52 Cups Of Coffee: Inspiring And Insightful Stories For Navigating Life's Uncertainties

An average college freshman makes quite few real friends during the first months of studying that can make things challenging for the future. Based on real events, this story tells about networking, communications skills and shows what should be done in such situations.
Getting From College To Career: 90 Things To Do Before You Join The Real World

The most important thing why you enter a college is an experience. The things that you will learn while studying will provide you with benefit in the future, postgraduate world. Moreover, the book that will help you find more of such experience is a real treasure. Here you will find everything, from organizing a resume to successful strategies of founding the first business.