Classification of Main Essay Types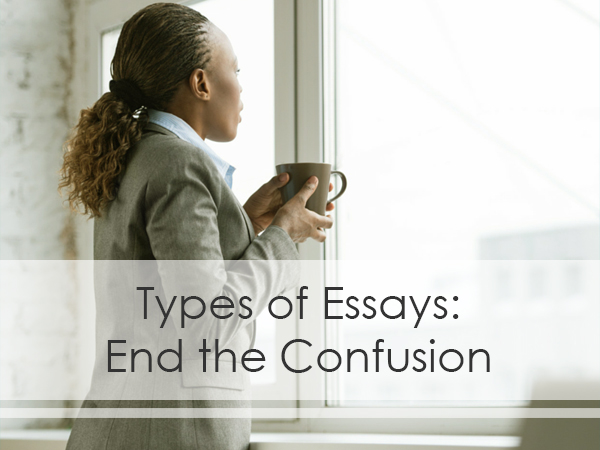 Tags: types of essayswriting skills
Success in writing depends not only on what is written but also on how it is written. In order to reach academic success and submit only high-quality papers, it is crucial for a writer to differentiate different types of essays. It is important in terms of being able to write a paper of a proper format and content.
Generally, there are four main types of essays, which are the basis for the rest of variations. Let us have a closer look at each of them and find out how to write different types of essays.
The type of an essay depends on the purpose of the writer. The questions to answer while writing an essay are, 'Do you want to describe something?' 'Do you want to explain some issue?' 'Is your intention to convince the audience in something?' 'Do you want to share a personal experience?'
Answering these questions will help you choose a proper type of your essay:
1 Narrative Essays
The aim of these essays is to tell a story. In most cases, the story describes a real-life situation or experience. The complexity of this essay type is based on the fact that the author has to write about himself/herself and engage the reader making the story interesting and catching. However, it does not mean that this kind of essay is only about retelling something. The writer usually makes a conclusion or provides a personal opinion at the end of the paper.
2 Descriptive Essays
The process of writing this type of essay can be compared to drawing a picture with the only difference: it is done with the help of words. The purpose of this essay is not just to describe, but to put an emphasis on some deeper meaning. It should evoke reader's emotions and call to actions.
3 Expository Essays
This essay deals with the analysis and presenting facts. The goal of the writer, in this case, is to explain the issue by providing evidence, facts, examples, statistics, etc. Expository essay forms a basis for such essays as cause and effect essays, contrast essays, etc. Personal statements and opinions should be avoided in these essays.
4 Persuasive Essays
The name of the essay speaks for itself. The aim of such paper is to convince the audience in something by presenting supportive arguments, examples, and facts. Sound reasoning, arguments, and logic are the main components of this essay. While writing, the author should provide two sides of the issue under discussion, and prove that only one of them is correct.
In order to be a good writer, it is important not only to know what to write and how to collect information; it is also important to know how to present this information correctly. For this reason, it is extremely important to distinguish different types of essays. This knowledge will help you concentrate on the most important issues and provide only relevant information in a paper. It will be easy to achieve success with the above information.