Four Primary Temperaments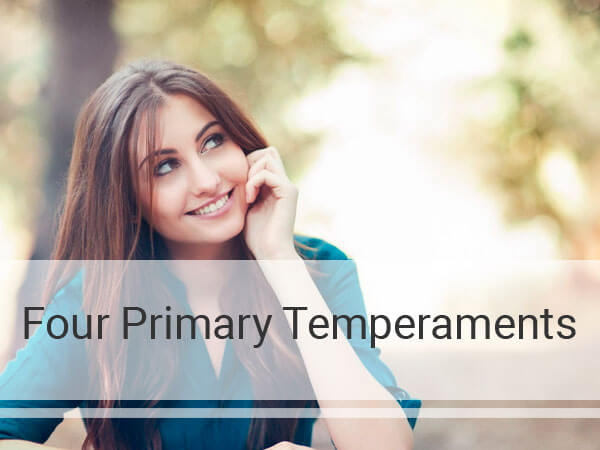 Tags: personality typemental health
There are many personality type theories. Here, we will describe one of the oldest personality type systems – four temperaments system. Its origins belong to Greco-Arabic medicine. In ancient times, this system was mainly used for treating different illnesses. Actually, it is still often used today in traditional medicine in most countries.
Nowadays, the terms sanguine, phlegmatic, choleric, and melancholic – four main personality types – persist in scientific language as well as the everyday one, and the four temperaments system remains one of the most common personality theories.
Sanguine Personality Type

People with this personality type are usually optimistic, cheerful, and light-hearted. Most of them love adventure. Typically, they cannot stand boredom and always look for variety and some kind of entertainment. Unfortunately, this trait often has a negative impact on their relationships with romantic partners. As Sanguine people tend to seek for pleasure in anything, they sometimes struggle with various addictions. In particular, it can lead to overeating and obesity.
People with this type of personality are very creative and many of them are amazing artists. Besides, they are good entertainers. Their natural abilities usually force them to success in jobs related to travel, fashion, marketing, sports, or cooking.
Phlegmatic Personality Type

People with a phlegmatic type of personality typically look for harmony between people and close relationships. Most of them are loyal spouses and caring parents. They treat their relations with friends and family members very reverently. Phlegmatic people usually avoid conflicts and strive to restore harmony and peace to everyone.
Such people are often times very much into charity and always try to help others. Perfect careers for such person are related to teaching, child development, nursing, psychology or counseling, and various social services.
Choleric Personality Type

People with a choleric temperament are typically goal-oriented. Besides, they usually are very savvy, logical, analytical, and straightforward. Because of these features, they are not always particularly social or good companions. Choleric people prefer deep and meaningful conversations rather than senseless small talks. For this reason, they prefer being alone rather than with facile people. Perfectly, they like spending time with someone who has similar interests related to their profession and lifestyle.
The preferred jobs for such people are related to business, engineering, statistics, management, technology, or programming.
Melancholic Personality Type

People with this type of temperament love traditions. They have tender and loving feelings towards their family and loved ones and do not strive for novelty and constant adventure. Actually, they even try to avoid it. A Melancholic person is very unlikely to leave his/her hometown for another city and especially another country. Such people are very social and gladly contribute to the community.
People with this type of temperament are very accurate, which makes them great people managers. The best career for melancholic personality is related to social work, management, administration, or accounting.