A Guide to Making Friends As An Adult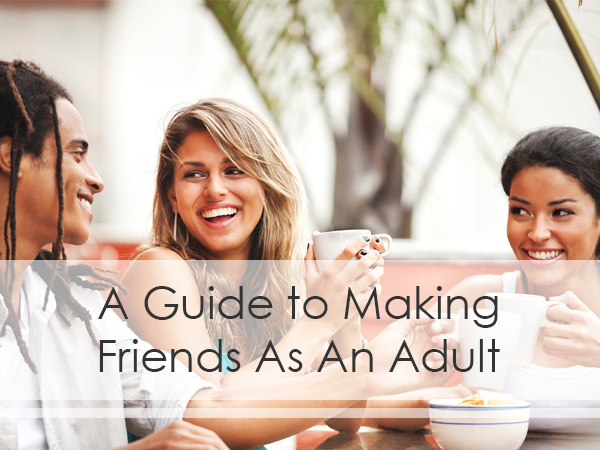 Tags: friendsrelieve stress
There's an opinion that people find their best friend during school and university years. Have you ever wondered if it's true? Actually, according to research, we're replacing 50% of our good friends every 7 years.
So, how to make close friends?

Here's all you need to know about this:
Is there anything wrong with how adults are trying to find new friends? Yes. Most adults try to find the friends who would be just like them. Single people search for other single people, and people who have families search for other family guys. It's more important how you feel with a person, so keep your mind open.
How to find a right person to befriend? You can't discover a great friendship, you have to forge it. Just like any other meaningful relationship. Research shows that people often befriend those who sit close to them and that's exactly what our school and university experience shows us.
How to move from a small talk to a big talk? Discover a common area of interests and ask deeper questions. For instance, if you have kids, don't just ask general questions about kids' health etc., but rather more personal question like how they perceive this stage in their life compared to the time when they didn't have kids.
What's next? Make joint plans and if everything works great, repeat these experiences. In case when you invite the person and he or she doesn't invite you, don't think that he/she dislikes you. As long as you hear 'yes,' continue having a good time.
What should I do if I'm an introvert? Keep trying. Making friends and revealing yourself to the other person is not always easy, but the more you practice, the better you get and the less awkward you feel.
Why is making friends easier for kids? Firstly, kids are easygoing and opened. The more mature we get, the more walls we build around ourselves. Secondly, kids have a lot of time that they can spend together. For adults, time is a valuable resource because they need to go to work, spend time with family etc.
Can I find friends in Facebook or other social media channels? Social media is more for supporting the existing bonds, rather than creating new ones.
What about building friends as a couple? That's difficult because it requires four people who have joint interests and who enjoy each other's company, but it's totally worth it. More people – more fun!
How long does it take to make a new friend as an adult? No less than a year or two. If you meet new people, it's one thing, but if you want to build lasting relationships, you have to work on doing this.
Should I know anything else? Yes. True friendship is a gift that shouldn't be compromised.