A List of Writing Ideas When You Don't Know What to Write About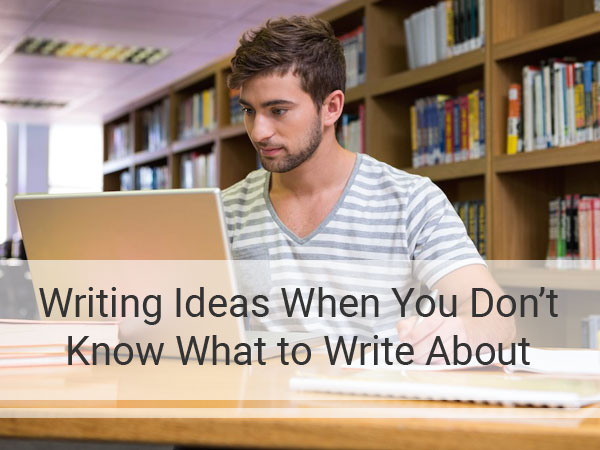 Tags: writing ideaswriting skills
You have just comfortably sat yourself at your computer and are on the verge of writing an article or a blog for a website when you discover that you have that writer's block again. Your mind simply went blank and you ran out of all ideas that you had previously thought about. If this experience is familiar to you, read on this article and find some things to write about even if you are sure you don't know what to write about.
1 Think about things that are currently topical.

Ask yourself some of the following questions. What is widely discussed in your industry right now? What are burning topics under debate? What are the current trends in your industry? Knowing answers to these questions, you will easily come up with some ideas to write about in your blog.
2 Try teaching your target audience how to do something.

Include some tips in your article on how to do something. Make sure that you teach your readers things that you already do well. Provide a detailed step-by-step instruction on how to succeed in something. You might come up with a title starting with, "How to…" Such articles are easily found in search engines.
3 Borrow some ideas from your competitors.

I do not encourage you to totally steal the ideas from somebody's written content. I just mean that reading a lot of others' content might help you generate new ideas of your own.
4 Spend time on reading forums in your industry.

As a rule, such forums have discussion threads, where people discuss the newest and the most popular trends on the market. Look through the most vividly discussed posts and see what people are interested in.
5 Just write a continuation to one of the popular posts previously written by you.

Refresh in mind the content written some time ago and write a follow-up to some of the previous posts.
6 Use a keyword planner.

Before writing an article or a blog post, make sure that the topic will be interesting to read for others. Therefore, use the Google Keyword Planner and investigate which topics are widely searched (according to the number of searches for different keywords).
7 Write about your worst mistake.

Although mistakes may make you ashamed when you start discussing them, they can often be a source of help for your target audience. Therefore, overstep your pride and share some of your personal experience to help others avoid mistakes you did.
8 Conduct an interview with a successful person.

Interview some successful person face-to-face, via telephone, or via email. Then share the person's experience by including it into your article.
9 Provide a brief summary or a critical review of some interesting book.

If you have read something interesting recently, why not providing a book review and recommending it to a reader (especially if the book is beneficial and expands knowledge).
10 Provide a counterargument to some other article or a blog post you have read.

If you have read something that you strongly disagree with, write a counterpoint to the article or post. However, if you opt to do so, make sure that the author of the article you are writing a reply to knows about it. Besides, mind your tone and language and make sure you are polite.
So, now you have no excuse to sit and stare at the blank screen. Use these tips and write!