What to Do on Christmas If You Don't Celebrate It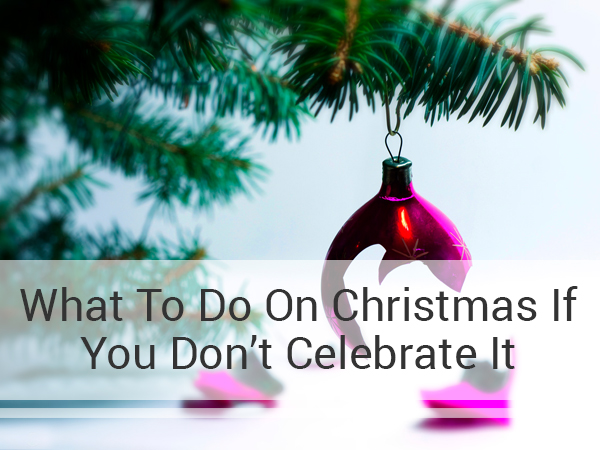 Tags: what to do on Christmaswinter break
A winter break is satiated with everything related to Christmas. Blog posts and magazine articles produce tons of ideas how to celebrate Xmas. TV channels excessively broadcast Christmas stories, celebrities dressing up as Santa, and children in eager anticipation of presents. If you are not one of those playing Xmas games all day round or browsing the web for the best Xmas recipes, this post is for you. If you don't celebrate Xmas, wintertime can turn out to be rather frustrating since everything and everyone is all about it. I get you and won't let you suffer. Read my tips to plan your winter vacation and have a great time!
Do something useful

Have you ever tried volunteering? It's good not only because Christmas is "a time for miracles and good deeds" – hold back your eye roll! – but also because homeless people and animals need more help in winter. I'm sure you will find places like shelters or soup kitchens in your the area that need volunteers. Just look around and do something good and you will definitely like the feeling.
Stay home

School is over. You're free to do nothing. Sleep. Eat. Repeat. Just relax while everybody else is trying to figure out how to celebrate Xmas in the best way possible. In case you plan to try out Christmas movies, here's Rotten Tomatoes' guide to the best of them. I would also recommend looking through Netflix watch list.
Hike

Imagine being somewhere off the beaten track with pristine nature and charming views mountaineering or just camping out in isolated areas. Sounds great, right? If that's your kind of fun, go on and choose some of the best trails in the US and cool winter walks in the UK.
Explore nature

What do you think about getting together with your friends outdoors? Personally, I think there's nothing better than lazing around the city with my buddies. On our endless walks, we always go to the park where we enjoy two things: fewer people and a skating rink. However, you can go big and visit at least one of the national parks we have in the US and enjoy a road trip there.
Choose Chinese or Japanese

Don't care about Christmas food? Great! Especially for people like you and me, Chinese and Japanese restaurants are open even on a holiday like Christmas. It would be wise though to make a reservation so that you could be sure to get delicious non-Xmas food.
Go to the movies

It is so good and convenient that movie theaters stay open on Christmas. You can spend time with friends or family eating tons of popcorn or any other guilty-pleasure snacks while watching a movie on a big screen. What not to love?
Stay with your family

Even if you hate Xmas games, it doesn't mean that you can't spend time with your family. Just sit back and enjoy being with the people you love. Also, you can encourage your family members to volunteer on Christmas with you.
Go gambling

While everyone else has spent their money on Xmas presents, you can try to gamble yours. Who knows, maybe casinos are generous on Christmas.
Bake cookies

Even if you don't share the obsession with Christmas cooking, it doesn't mean you can't bake some fine pastry. Who said it has to be Christmassy? All we need is tasty cookies! Find great yet easy dessert recipes here.
Read books

As the year is coming to an end, it is a perfect time to get back to your reading list compiled forever ago. If there are no books in your list, check out 10 great short stories I find worth reading.
Catch up

There are multiple opportunities to make things done in your waiting list. Do chores, engage in your hobby, finish the project you've been working on for a while now. Try to cross out as many things as possible from your to-do list and enjoy the feeling of accomplishment.
Go to a bar

I would not recommend it unless none of the above-mentioned interests you. If partying hard is your style, there's always a bar open somewhere in your neighborhood.
Personally, I love Christmas very much for the time it provides to unwind. Use yours wisely and remember to have fun!