Order Interview Essay
No AI-generated papers
We are available 24/7/365
Our prices start at $11.99/page
94% of satisfied returning customers
Get 300 words/page instead of 275
Writing an interview essay is a complex task that requires much preparation, thoughts and planning. The essence of such a paper is that it serves as a roadmap to the interview itself. Such assignment requires gathering relevant and the most factual information prior to the interview, selecting appropriate questions, preparing an outline. And all that needs to be done within limited and quite often short deadline. Order interview essay from TopWritingService.com and relieve yourself from the workload and stress and let our professional writers do all the job for you!
Writing an Interview Paper
Interview papers require different approach than other academic writing assignments, such as expository, compare-contrast, or argumentative, and other types of essays.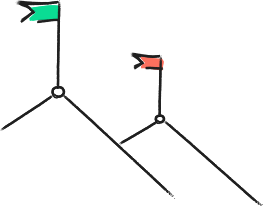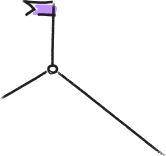 When assigned an interview paper, you will need to:
Choose concrete topic, either the one that you specialize in or one that you are passionate about. If you do not quite understand the topic, or ask unrelated questions, your interviewee will have no interest in wasting time for a random chat with you.
Pick peculiar subject within the topic of your interest to make your interview more focused.
Research available sources for additional information to discuss during the interview.
Develop relevant meaningful questions.
Agree on the time, date, and location that will be suitable for the person you will be interviewing.
Take notes or ask the interviewee to record your conversation.
Develop an essay based on the interview and describe your insights from the interview.
Edit and proofread your paper.
If these tips are not helpful and you are still stuck with writing an interview essay paper, do not hesitate to ask our team of academic writers for help. Our writers will assist you not only with interview essays but also with other types of assignments, including simple essays and coursework, research and term papers, and even research proposals and dissertations.
Interview in Essay Format
Although interview essay differs from other academic papers, its format still needs to follow academic writing standards and required referencing style (e.g. MLA, APA, Harvard, Chicago, etc.). Thus, you need to dedicate sufficient time to studying how to cite and reference the interview itself as well as additional sources you used in your paper. Remember that interview essay format is an important part of the grading rubric and should not be underestimated.
To write a solid interview paper, you will need to have a clear outline and follow rather standardized structure.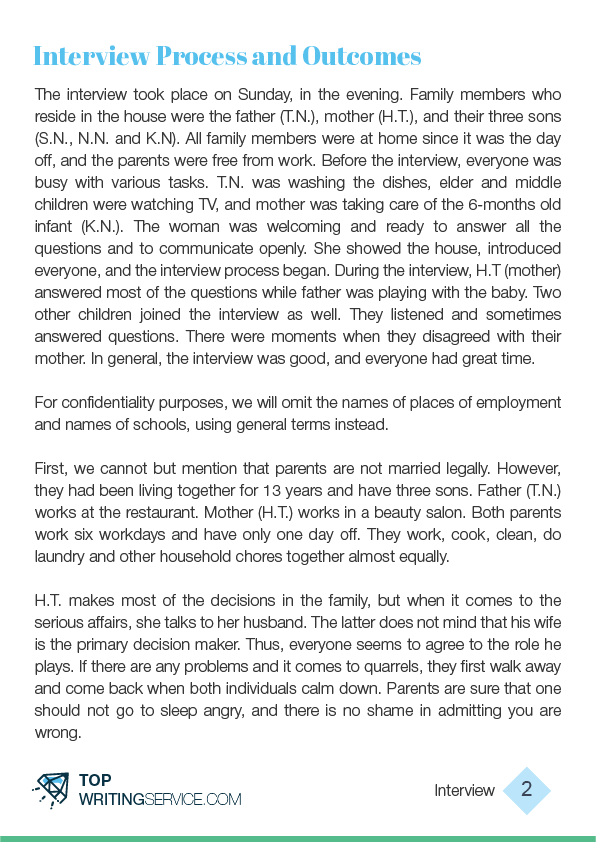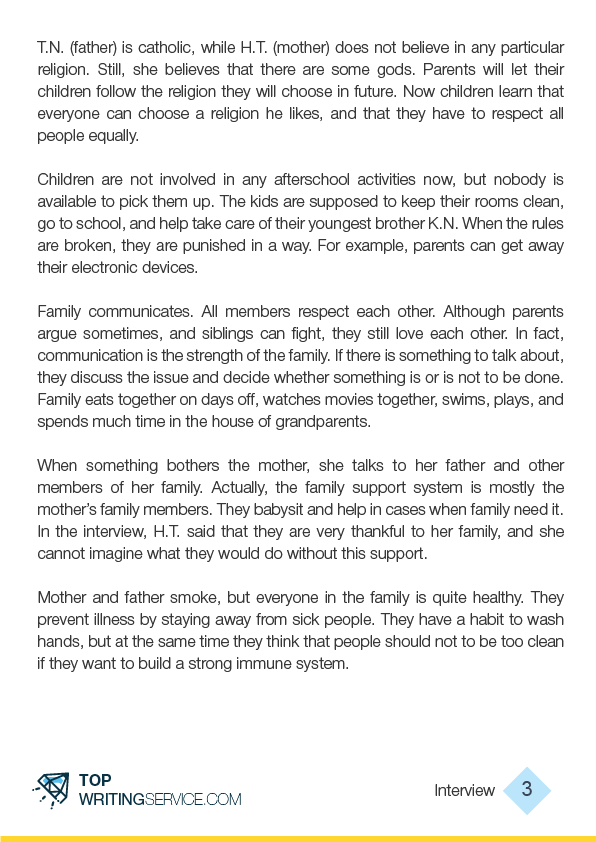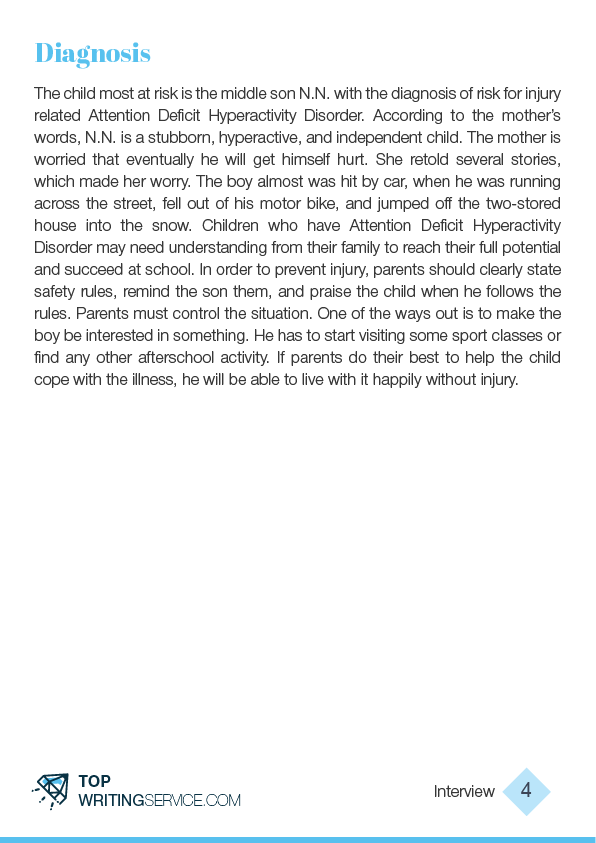 Introduction
Introduction is meant to attract attention. Thus, to make your readers intrigued about your paper, you need to think of a hook sentence, which can be a metaphor, statistics, quote, joke or anecdote, etc. The success of your interview paper and whether your readers will continue reading it depends on this one sentence.
Nonetheless, thesis statement should not be underestimated either as it is an integral part of academic writing that signifies the most important information of your essay. Thus, you need to indicate interviewee's name, title, social status, and provide succinct explanation why you chose to write the story about him/her.
Body of the Essay
Interview essay follows identical structure as any other five-paragraph academic piece of writing. The body of your paper needs to reflect, support and further develop the main idea indicated in your thesis statement. A good paper will contain at least three body paragraphs that describe the lessons you learned from the interview. It is important to emphasize why it is important to read about the person you interviewed.
Conclusion
Like in any other paper, interview essay has to end with a conclusion that summarizes main ideas as well as provides your reflection on the interview and your conversation with the person.
Oftentimes students find it difficult to develop a sophisticated essay from an interview. Namely, here steps up TopWritingService.com, one of the best and most professional academic writing services available. Order interview essay from us and forget about all the hassles of paper development and writing.
Yet, if you decide to prepare for the interview yourself, use our sample interview questions to guide your conversation and let us write the paper for you:
What is your reaction to a homeless person asking for money or favor from you?
What is "being green" means for you? In what ways do you support recycling?
What do you consider to be most important in people?
What is your attitude to adoption? Would you adopt a child?
What do family and friend mean to you?
What is your most significant achievement?
What is your passion in life?
Have you ever tried volunteering and, if so, what was your experience?
What is the most annoying thing you ever had to do?
What is your greatest ambition?
Who do you consider to be the most influential person in your life?
What is the most significant event of your life and why?
In what ways do people change when they age?
Do you think gifted people are more successful than those who work hard?
What is the most important lesson of your life?
Get order proofread by editor
Get a full PDF plagiarism report
Get order prepared by Top 10 writers
VIP services package
29.98 USD
You as an interviewer can use these questions to gather information about the person. Furthermore, you may provide your questions before actual interview so that the person can prepare decent answers. Interview essay later will provide an opportunity to better understand the person and reasons why chose him/her for the interview.
The final interview paper should contain information about interviewee, important topics that you discussed with the person, and the explanation why those topics have been chosen and discussed. In addition, interview essay needs to include the questions as well as direct quotes.
As you see, preparing, planning, setting up the interview, and the writing interview essay is a very tedious and time-consuming process. Thus, do not waste your time and relieve your stress by letting our writers work on your interview paper.