An Essay about Experience in Life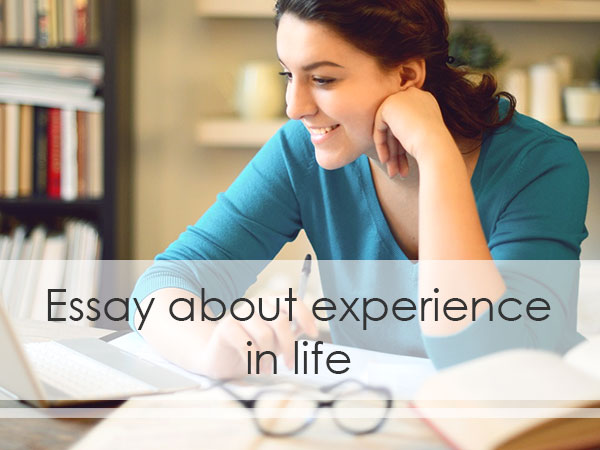 Tags: writing ideastypes of essays
An ordinary essay about an experience in life does not differ from other pieces of writing if it concerns its structure and key elements.
This type of essay is supposed to comprise such essential structural elements as:
Introduction;
Main body;
Conclusion.
In the first part, which is the introduction, you are supposed to present your topic, as well as the thesis statement. In the main body, you should support your thesis statement in three or four paragraphs.
In the concluding part, you should sum up your points of view. It should be noted that this structure should be followed while writing short and simple essays.
Find outstanding life changing experience essay ideas
Completing an essay about an experience in life enables the writer to present his / her considerations concerning a certain event, situation or person that changed, transformed or influenced her/ his life in a remarkable way. Telling other people about your experiences can be very easy, but writing about them on paper is a complicated task. Take into account that writing considerably differs from narrating. Imagine the evening when you were impressed by your friends who prepared a birthday party for you. What did you feel on that very moment? Joy, happiness, unexpectedness, and anxiety. All your feelings and emotions, as well as order of their appearance should be reflected in the essay. One of the challenges that you may also face is that you are to do all your best to impress your readers with your story and make sure that it will have a certain influence on them.
How to commence your essay about experience in life?
The most important part of writing your narrative essay about life is to attract your readers' attention. First of all, you should try to focus your readers' attention on the very fact that your story and the process of writing it have impacted you a lot. For example, you may commence your story with the sentence: "after that event I have changed my attitude to people." Your readers should clearly comprehend in what way something or somebody has changed or affected you or your life forever. The next step that you should follow is to present the realistic picture of what happened to your readers. In the introduction part, indicate the aim and key idea of your essay.
The Main Body
Your story may seem rather natural if dialogues are included in it. Try to avoid mixing up your story with the dialogues. Take in consideration that dialogues should be an integral and essential part of your essay.
The structure or chronology of your story is of great significance as well. Determine your most important experiences and make them your reference points. When you dwell on your reference point, indicate your state or feelings before, during and after your experience. For example, you may draft your essay in such sentences as:
I had never felt / known/ believed / considered that…
Then it turned out / happened / occurred / taken place.
Since that time / moment / situation/ event I have never…
Do not worry of your story writing, but try to make a clear emphasis on the transition of the events, as this matters a lot. On your prewriting stage, make a list of all essential events and allow the above-mentioned three sentences to guide you in creating your future main body paragraphs.
The change of your perspective is also regarded as an important factor while writing a narrative essay about life-changing experience. Such a change can be brought about by the experience duration. For instance, a short duration influences your immediate reactions, whereas a perspective one can drastically change as the time passes. For example, you broke up with your girl-friend; the instant reaction is, of course, sadness, emptiness, or dissatisfaction. However, with time, you can realize that such an experience has made you a bit stronger.
While choosing the essay topic, take into account what you want that your future readers will find out about you and things that happened to you.
The choice of the leading character in your essay is also of great significance. If you are going to write an essay about your personal experience and to be its central hero, your readers can experience the stage transitions from the story chosen by you, or you can provide a specific perspective that represents your change. In such a situation, you will share your own perspective concerning the story and not those of other people. For instance, if you write a story about a person who saved people from the car accident, you should dwell on how this even influenced your life and not the life of that person.
How to make a conclusion of an essay about experience in life
In the conclusion, you should restate the aim and thesis statement you indicated in the introduction part. An essay about experience in life implies that you will explain your transition from your pre-experience by means of experience to future post-experience.
How to Make a Final Revision of an Essay:
Ask your teacher, a close friend or a family member to read your essay;
Check the essay flow and clarity;
Check it for grammatical, stylistic or punctuation mistakes, as well as typos.
Example of the Essay Outline
A Moment that Has Changed My Life
Introduction – The topic of your essay should be introduced to your readers
Thesis statement
The aim of the essay
Main Body
Chronology of the events
Choice of the key persona – It can be you or any other person
Choice of your perspective – Shorter or longer timeframe
Conclusion
Restatement of the essay aim – What are the findings?
If you stick to our practical pieces of advice given above concerning how to write an essay about your experience in life, we are sure that you will cope with it very successfully. In case you have any questions regarding any issue, please refer to our helpful support staff and our highly qualified professional writers. We are working to help each student reach the best results in his/her academic life!