How to Write a Business Report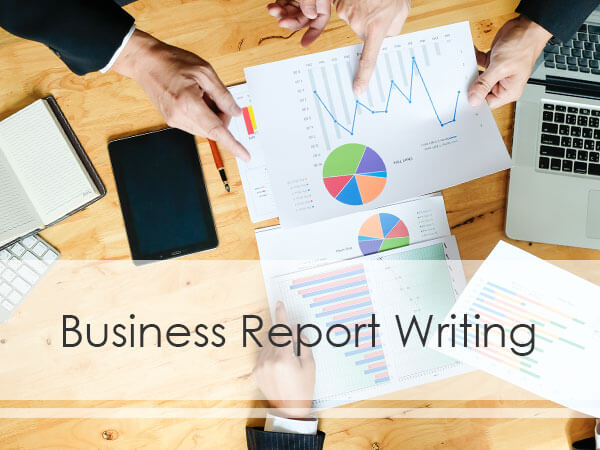 Tags: writing ideashow to write
"How to write a business report?" Students often ask this question, as they find this assignment extremely difficult. Actually, business report writing is a really challenging task. However, correct approach towards completing the assignment will help you avoid problems and stress connected to it.
Business Report
In order to understand how to complete this type of assignment, it is important to answer the question, 'What is a business report?' A business report may deal with such aspects as modern trends in business, recommendations regarding the way to improve the overall performance of the company, current business situation of the firm, analysis of financial statements of the company, etc. In addition to this, business report may address problems the companies tend to face at a specific stage of their performance and the ways to solve them.
Effective Business Report Writing
Regardless of the type of business report, it serves as an important tool for any business and is crucial for a decision-making process. As a result, it is extremely important for a writer to know how to write a business report properly. In order to come up with a good report, the writer should be precise and clear, as well as provide information that is credible and easy to understand for a target audience. When you write business reports, you should remember that your main task is not to persuade someone or to provide your own opinion. The main aim of any report is to provide information on actual situation.
There are seven main categories that are crucial for business report writing. If you want to prepare a professional business report, it is strongly recommended to follow them strictly.
1 Clearly determine what is expected by the client.

This step can be determined as a preparative one, which makes it one of the most important stages of report writing. The deal is that every details is discussed at this stage and if you do not understand the task properly, your further work will be in vain. So, first of all, you should clearly determine what the main aim of the report is, what should be addressed, what information included, and what specific issues have to be mentioned in the report. Only clear understanding of the task will give you an opportunity to do everything right.
2 Type of the report.

Considering that there are different report types, at this stage, you should determine which of them should be taken as a basis. Clarification of this issue will help you avoid problems and misunderstanding with a client. It will spare you from wasting your time for business plan writing wen business proposal or strategic business plan, or corporate management plan is required.
3 Conducting a research.

After you have explained all the issues to the person responsible for report writing or received all necessary information from the client (in case you are the one who is writing the report), you can start your research. Sometimes, it can be limited to simply reading the materials provided by the customer. However, sometimes, deeper research is required. Everything depends on a particular situation and the requirements provided. If you are supposed to find additional materials for the report, you can always rely on the Internet. Nevertheless, do not forget that not all sources can be used, as not all of them offer credible information. Do not forget to double-check the information you use.
4 Provide table of contents.

For those who learn how to write a business report, there is a good recommendation to start if from the creation of table of contents. It will help you determine and single out the most essential parts that have to be described while writing. Moreover, the first draft of table of contents can be written during completing the first stage of the report writing. You can write down the most important parts outlined by the client during discussing the details with him/her. As a result, you will have a writing plan before you actually start to work. Table of contents will make your work easier by providing key elements you have to discuss and investigate.
At the same time, to avoid confusion, you can ask the customer to approve your table of contents and make necessary modifications. Such strategy will help you double-check if you are on the right way and will help you avoid making major corrections at the final stage of writing. Asking the customer to approve your TOC is a good chance to make sure that everything is correct and make your work easier.
5 Additional research.

Actually, this step is not always necessary. However, when you receive all information about what has to be done and prepare your TOC, you will see if the materials presented by the customer are enough for report writing or not. If the information is not enough, make additional research to have all necessary data before you go down to writing the final draft.
6Create rough draft.

This step involves using MS-Word to create a rough draft of your report. Write down the table of contents first and then provide all headings and sub-headings you are going to use with blank space between them. In such way, you will get a preliminary document you will expand during the final stage of writing.
7 Complete the report.

Now when all the information is gathered you can start filling in the blank spaces. Even though this stage is one of the longest, it is not one of the most difficult. Actually, at this stage, you are just adding information you have already gathered previously without making any additional investigations and researches. It does not have to be difficult if you have done all the previous steps properly.
As you can see the process of business report writing does not have to be difficult if you follow all the steps. Anyway, if you do not know how to make a business report and find this process too difficult, you can always ask for report writing help from a professional online writing company. It will give you a chance to save your time and get your work done without problems.
Business report writing is not as difficult as it may seem from the first time. Nevertheless, in case you are in need of professional writing help, we are always here for you! Order your report now and let us help you!